1800-123-0156
Type Here ... [+]
Voluntourism is one of the tool of tourism, which is mainly an initiative when both the tourism institution and tourists agrees to support the community, destination or a village with different social ... [+]
Lingsey a remote village of Kalimpong Sub-Divison is situated at an altitude of 4800 ft. and is 24 km from Pedong & 52 km from Kalimpong Coordinates: 27°9\'46"N 88°40\'29"E. It is ... [+]
Bahundangi Nepal
Treasure at the Border' Bahundangi, Jhapa-Nepal: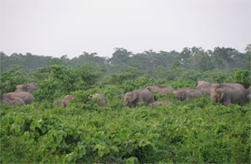 It is located at the easternmost part of Jhapa district in India Nepal border. It is bordered with India towards east and south and Illam district and Mechi municipality towards north and west respectively. The total population is 22897 according to 2001 census. The majority of the people are farmers, mostly cultivating rice, tea, arecanut, ginger, etc. Because of its open border most people have free access to India where they go for shopping and medication to the adjoining Indian market Naxalbari. The village is remote with travel connection to Kakarvitta which is almost 9 kilometres from the Bahundangi bazaar.
The term bahundangi is the combination of Bahun (Brahman, the most celeb cast of Nepal), and Dangi (also called Birta, Place). There are so many sub-castes in Bahundangi, such as Neupaney, Niraula, Budhathoki, Khanal, Poudel, Khadka, Basnet, Karki, etc.
Tourism Experiences and Attraction :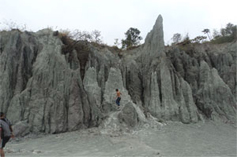 Patalganga :
The temple is located in the north of Tokla tea garden in Mechinagar. Another religiously important temple lies near by. Besides, there are numerous statues of different Hindu deities. It holds huge fate and fate on the occasion of Shivaratri annually.
Krishna Thumki :
It is believed that lord Krishna grazed his cows here and so is named as "Krishna Thumki". There are huge heaps of land in the plain surrounding, which in Nepal is said 'Thumki'. All together Six (6) Thumki are there. On the proper Krishna Thumki there are footmark of a cow and human on a rectangular stone which convinces the visitors about the old belief. The rest five Thumkis are the symbol of five Pandavas.
Mini Mountains :
The structure of huge mud hills is of whitish colour which can confuse you as the snowy mountain.
100 Years Old Bayan Tree :
Banyan tree is of great importance to the Hindu people all over the world. It is worshipped as the form of lord Bishnu. Bahundangi ward no. 6 holds the pride of gardening over a hundred year old Banyan Tree in an enchanting location, the tree covers an area of 36,000 sq. ft. This holy worshipped tree, is the home to 46 species of bird.
Elephant View Tower & Bamboo Resort :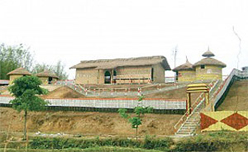 Elephant view tower & Bamboo resort is a marvelous destination for Nature Lovers who are "Bucked up" with the busy city life. The resort is located at Bahundangi-1, Jhapa, and 15 minute of drive north to Kakarvitta on the country road. The notable fact about this resort is it is construction using local bamboos and country grass. This resort offers varieties of delicious dishes and lodging facilities. Stay in overnight there and enjoy the herd of wild elephant and be lifetime experienced.
If you wanna chill out and experience exotic country life, it's a most visit place for you. The resort also offers package tour to different religious and historical places around the beautiful place, Bahundangi.
Nearest Airport :
Bahundangi does not have an airport yet and the nearest one is Bagdogra. Bahundangi to Bagdogra Distance 45 Minute.
Nearest Rail Head :
The nearest train station is New Jalpaiguri (NJP) which has direct connections to New Delhi, Kolkata, and other major cities in India.
Address :
Bahundangi Jhapa Nepal
District: Jhapa