1800-123-0156
Type Here ... [+]
Voluntourism is one of the tool of tourism, which is mainly an initiative when both the tourism institution and tourists agrees to support the community, destination or a village with different social ... [+]
Lingsey a remote village of Kalimpong Sub-Divison is situated at an altitude of 4800 ft. and is 24 km from Pedong & 52 km from Kalimpong Coordinates: 27°9\'46"N 88°40\'29"E. It is ... [+]
Voluntourism Itineraries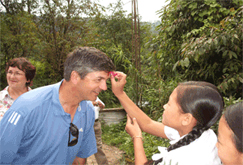 There are lot of people who give to this world. Most of these giving is more seen in material possessions. But the peace and pleasure of giving is achieved by reaching people in remote and isolated parts of the world, the pleasure of meeting them, the pleasure of sharing with them, the pleasure of understanding them, the peace of the people holding your hand and thanking you for your visit and above all learning, seeing and experiencing things for the first time in life. The peace of being part of the people's life by self act in the place of visit. This at Help tourism, we call 'voluntourism', the act of meaningful volunteering through visit. At Help Tourism, we have found that a 'volunteer tourist' is like a candle, which burns itself slowly to give light to many unknown places of this world, where they have made a positive change through their visit.
Introduction:
Voluntourism is one of the tool of tourism, which is mainly an initiative when both the tourism institution and tourists agrees to support the community, destination or a village with different social projects and also create awareness to protect the forest and wildlife.
In the Eastern Himalaya of Darjeeling and Kalimpong districts, tourism is successfully working for more than decades and helped the society to raise their living and educate their children with interaction of different tourist around the world.
Proposed Activities For Volunteers :
Buddhism- a way of living.
Experience life in a tea garden.
River- a source of life.
Social development programs.
Awareness programs to conserve the biodiversities around.
Documentation of heritage sites and cultural background of the indigenous tribes.
Women empowerment and safety.
Hands on farming.