1800-123-0156
Type Here ... [+]
Voluntourism is one of the tool of tourism, which is mainly an initiative when both the tourism institution and tourists agrees to support the community, destination or a village with different social ... [+]
Lingsey a remote village of Kalimpong Sub-Divison is situated at an altitude of 4800 ft. and is 24 km from Pedong & 52 km from Kalimpong Coordinates: 27°9\'46"N 88°40\'29"E. It is ... [+]
Signature Itineraries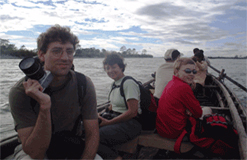 There are a few places and activities in East and Northeast India, Nepal, Bhutan, Bangladesh and Myanmar which remains least explored, and a few of these destinations and activities have been put together by HTIP team into Help Tourism Signature Itineraries. It is a unique opportunity, privilege and experience for a traveller to avail of these opportunities being offered exclusively by Help Tourism and their principles. Other than travel itineraries, the Help Tourism destinations offer 'voluntourism itineraries', with the dimension of 'travel to give, and give to take', a concept where travel only involves to do good for the place of visit, and at the same time take back love, blessings, and moments of feel good through this sharing.
---

Voluntourism Itineraries
Voluntourism Itineraries There are lot of people who give to this world. Most of these giving is more seen in material possessions. But the peace and pleasure of giving is achieved by reaching people in remote and isolated parts of the world, the...
More >>

Bhutan,Myanmar and Nepal Itineraries
Bhutan - Myanmar - Nepal Itineraries Bhutan THE LAND OF HAPPINESS (08 Days/07 Nights) Paro - Thimphu - Punakha Introduction We at Help Tourism are offering a weeklong journey of discovery through Bhutan, exploring the remote valleys and high passes...
More >>

Western Arunachal
Itineraries - 1 Namdapha Tiger Reserve ~ Digboi Oil Field ~ Kaziranga National Park ~ Nameri Wildlife Sanctuary ~ Shillong Day 1 On arrival at New Delhi our Guide will receive you at the airport. You will stay at Taj/Hyatt. Day 2 ...
More >>

Tribal (Ethnic) Tours in Arunachal Pradesh
Tribal (Ethnic) Tours in Arunachal Pradesh Bounded by Tibet in the north, Assam and Nagaland in the east and Bhutan in the west, Arunachal Pradesh, fromerly known as North-East Frontier Agency or NEFA, covers an area of 83,743 square kilometres and...
More >>

Tribal (Ethnic) Tours in Nagaland
Tribal (Ethnic) Tours in Nagaland Nagaland the sixteenth State It is bounded by Assam in the West, Myanmar (Burma) on the East, Arunachal Pradesh and parts of Assam on the North and Manipur in the South. Each of the 16 odd tribes has its own customs,...
More >>

Wild Monk
Sikkim - the last Shangri-La Sikkim is the mystic land of legends, kings and bravery of knights. It is also the land of flowers and smiles of village children. Mount Khangchendzonga the third highest peak of in the world. Here the air is bathed with...
More >>