1800-123-0156
Type Here ... [+]
Voluntourism is one of the tool of tourism, which is mainly an initiative when both the tourism institution and tourists agrees to support the community, destination or a village with different social ... [+]
Lingsey a remote village of Kalimpong Sub-Divison is situated at an altitude of 4800 ft. and is 24 km from Pedong & 52 km from Kalimpong Coordinates: 27°9\'46"N 88°40\'29"E. It is ... [+]
Jaldapara Jungle Camp
Jaldapara Wildlife Sanctuary & Jaldapara Jungle Camp :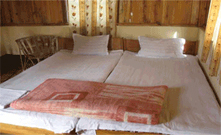 Jaldapara Wildlife Sanctuary is a protected park situated at the foothills of Eastern Himalayas in Alipurduar Sub-Division of Jalpaiguri District in West Bengal and on the bank of river Torsa and have an area of 141 sqare km and altitude of 61 m. Jaldapara, the vast grassland with patches of riverine forests was declared a sanctuary in 1941 for protection of the great variety flora and fauna, particularly one-horned rhinos, an animal threatened with extinction. The forest is mainly savannah covered with tall elephant grasses.The main attraction of the sanctuary is Asiatic one-horned rhinoceros. The sanctuary holds the maximum number of rhinos population in India after Kaziranga National Park in Assam. The other animals consist of Royal Bengal Tigers, elephants, deers, sambhar, barking deer, spotted deer and hog deer, wild pig, bisons. Jaldapara is a paradise for bird watchers. It is one of the very few places in India, where the Bengal Florican is sighted. The other birds to be found here are the Crested Eagle, Pallas's Fishing Eagle and shikra, besides Jungle fowl, peafowl, patridges, Bengal Florican and lesser Pied Hornbill. Python, Monitor Lizards, Krates, Cobras, Geckos and about 8 species of fresh water turtles have also found here. Many of the animals are endangered like - asiatic one-horned rhino and elephants in Jaldapara Wildlife Sanctuary.
Camp & Infrastructure :
Jaladapara Jungle Camp have 02 Attic Cottages, 02 Wooden Cottages, 02 Cottages and 01 Triple Bedded Cottage with attach toilets & baths.
Room Tariff :
European Plan (EP)

Room Type
Single
Double
Attic Cottages:
1600 (NAC), 2000 (AC)
1600 (NAC), 2000 (AC)
Bamboo Cottages:
1200
1200
Cottage Room:
1000
1000
Double Bed Room:
1200
1200

Meal Rates Per Head

Breakfast
Lunch
Dinner
100
150
150
*10% Service Charge & GST will be extra on Above Rates.
Interest :
Birding, nature walks, village walks, Jungle Trail, car & elephant ride
Nearest Airport :
Bagdogra (3.5 hours)
Nearest Rail Head :
Hashimara (1 hour), Alipurdual (2.5 hours) & New Jalpaiguri Station, which is connected by long-distance trains with all metro and major cities of India (3 hours)
Address :
Near Reliance Petrol Pump
National Highway
P.O. Madarihat
Dist: Jalpaiguri