1800-123-0156
Type Here ... [+]
Voluntourism is one of the tool of tourism, which is mainly an initiative when both the tourism institution and tourists agrees to support the community, destination or a village with different social ... [+]
Lingsey a remote village of Kalimpong Sub-Divison is situated at an altitude of 4800 ft. and is 24 km from Pedong & 52 km from Kalimpong Coordinates: 27°9\'46"N 88°40\'29"E. It is ... [+]
Pakke Jungle Camps
Pakke Tiger Reserve & Pakke Jungle Camp :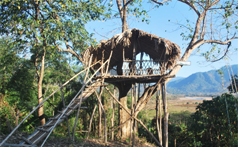 Pakke Tiger Reserve, Arunachal Pradesh Situated in East Kameng district of the Western part of Arunachal Pradesh with it's headquarter in Seijusa, Pakke is a pristine and most stunning landscapes teeming with some of the most secretive and rare species of fauna and flora. This relatively new Tiger Reserve which had witnessed rampant hunting and felling a decade ago has now registered a commendable turn around with the initiative of the forest department and the local communities. In a significant move in September 2006, heads of sixteen villages had passed a resolution listing various penalties for wildlife violations and following which the villagers have been keeping a strict vigil in the reserve. The 16-member committee has been working for protection of the Pakke Tiger Reserve in conjunction with the forest department. This initiative is very innovative in approach and a marked departure from the conventional practice of conservation since, the local people, mainly comprising Nyishi tribe, respects the Gaon Burahs (village chiefs) for their wisdom and traditional values, their role is important as they can persuade people to use the natural resources sustainably. Pakke Tiger Reserve falls within the Eastern Himalaya Biodiversity Hotspot. It is home to over 2000 species of plants, 300 species of birds, 40 species of mammals, 30 species of amphibians and 36 species of reptiles. Many species of the flora and fauna are globally threatened, and PTR is one of the last remaining strongholds left for these species. The area can be truly termed as 'Hornbill country', as four species of Honbill are found here. The endangered White Winged Wood Duck is not uncommon too.
Pakke Jungle Camp :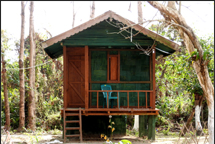 Pakke Jungle Camp is a community-based tourism model jointly implemented and run by Help Tourism and the local tribal self-help conservation group named Ghora-Aabhe. The project is supported by forest department and a Bangalore-based conservation NGO named Nature Conservation Foundation and, the primary goal of the tourism project is to drive and step up conservation and ensure community ownership. Spread over a richly forested land, the Jungle Camp is a cluster of four local style cottages on stilts made interestingly by the local artisans with local eco friendly materials such as bamboo, thatch, cane brakes and wood. Each hut has a Spartan but cozy and comfortable double –bedded room and a small verandah overlooking the forest canopy. The thatched and spacious dining area provides a very relaxing atmosphere and one can spend time watching birds and butterflies within the vicinity of the camp premises. There is a common bath cum toilet area consisting of two western style baths and toilets each with running cold shower. Elephants pay visit to the surrounding jungle of our campsite frequently, so there is security fencing at the camp site to keep the curious pachyderms away to a safe distance while allowing them to roam freely in their own territory. Several nature trails and soft trekking routes have been carefully developed or identified around the Jungle Camp to provide our guests with an unforgettable wilderness experience.
Trip Package & activities :
All trips are on Jungle Plan which includes accommodation, all meals that consist of authentic local recipes, transfers, guided safaris/game drives, guided nature walks and birding, cultural experience, village tour.
Experience :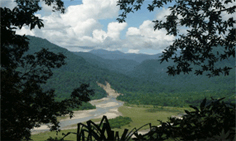 PTR is a paradise for viewing and photographing four species of hornbills. The experience of watching hornbills flying to their roost is a must for every wildlife enthusiast. Every evening, just before sunset you will be lucky to witness more than a hundred hornbills flying above the horizon to their roost sites. In addition, PTR harbours other specialties such as the Ibisbill and the White-winged Wood Duck. Nestled among hills and criss-crossed by rivers, Khari is only 13 km away from the park headquarters at Seijusa. White-winged Wood Ducks are often sighted in Khari lake, which is a 10 km trek from Khari beat. A well planned visit to PTR should coincide with some of the local festivities to have a richer experience of the local tradition and customs. Every year, from 24th to 27th of February, Nyokum yullo, the harvest festival is celebrated by the Nyishi tribe. During Nyokum, all sections of the Nyishi community get together celebrate this festival pompously at Bhalukpong and Seijosa. The mithun is a semi-wild bovid which plays an extremely important role in the cultural, economic and social life of people around PTR. Mithuns are sacrificed and offered to the Nyokum goddess. In Bhalukpong on the 4th and 5th of April, the Adhi tribe celebrates Mopin, the harvest festival. Mithuns are also sacrificed on this occasion. To greet each other, people smear a paste of rice on each other's faces. Similar to the Nyokum and Mopin festivals, the Miji community of the Tipi area celebrate Chindang on the 14th and 15th of October. If you do miss the local festivities, do not miss a household visit to see the local handicrafts being made. Members of most households craft products for personal use and therefore handicrafts are not available on a commercial scale. It is incredible to see everyday accessories like market bags beeing still made of cane and bamboo. The Nyishi oryok (a carry knife), galles (hand woven wrap around skirts), naraa (cane woven bags for men), igin (cane woven baskets for women) and dharees (bamboo mats) are some of the craft specialties of the area. These handicrafts take many months to finish since they are made intricately with an eye for detail.
Season & climate :
November to April is the usual tourism season.PTR has a subtropical climate with cold weather from November to March. The temperature ranges from 12° C to 36° C. It receives rainfall predominantly from the south-west monsoon (May – September) and north-east monsoon (November – April). October and November are relatively dry. May and June are the hottest months. Humidity levels reach 80 % during the summer.
Access :
The nearest air-ports are Tezpur (approx. 50 km) and Guwahati (approx. 280 km).The nearest railway stations are at Soibari (also known as Dolaibil; approx. 36 km) and Biswanath Charali (approx. 47 km). Rangapara, another railway station, is about 60 km (from Seijosa and Bhalukpong).
Room Tariff :
European Plan (EP)

Room Type
Single
Double
Cottage Room:
4500
4500
*10% Service Charge & GST will be extra on Above Rates.