1800-123-0156
Type Here ... [+]
Voluntourism is one of the tool of tourism, which is mainly an initiative when both the tourism institution and tourists agrees to support the community, destination or a village with different social ... [+]
Lingsey a remote village of Kalimpong Sub-Divison is situated at an altitude of 4800 ft. and is 24 km from Pedong & 52 km from Kalimpong Coordinates: 27°9\'46"N 88°40\'29"E. It is ... [+]
Chilapata Jungle Camps
Chilapata Wildlife Sanctuary Chilapata Jungle Camp: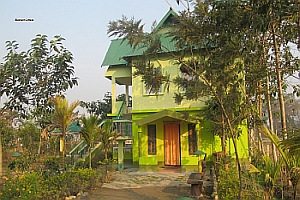 The Dooars are an extraordinary choice for the nature lovers and general visitors.Nestled in the heart of the picturesque Eastern Dooars at the foothills of the Eastern Himalaya and perched between Buxa Tiger Reserve and Jaldapara Wildlife Sanctuary, lies Chilapata Wildlife Sanctuary, the most important migration corridor of large herbivores such as One Horned Rhinos and Asiatic Elephants and an upcoming eco-tourism destination in Bengal.
Considering the traditional migration pattern of the mega herbivores through the forest corridors, the ecological boundary of Chilapata is well spread out along the banks of Bania and Torsha rivers that bring in the fresh monsoon alluvials, thus support and protect the grassland ecosystem and the astounding diversity of flora and fauna of the park.
Chilapata reportedly harbours 23 species of carnivores and herbivores, approximately 180 species of birds, 22 species of reptiles, several species of amphibians and a host of lesser fauna.
At the micro level, some rarities in Chilapata remained unexplored until recently when some hidden treasures of biodiversity have been discovered. In spite of tremendous biotic pressure in Eastern Dooars landscapes, Chilapata palys an instrumental role in maintaining the faunal resources of the region.
Major mammals recorded in Chilapata are Lesser Javan rhinoceros Rhinoceros sondaicus, Asian elephant (Elephas maximus indicus, Indian Bison or Gaur (Bos frontalis gaurus), Leopard Panthera pardus fusca, Lesser cats, Hog deer Axis porcinus porcinus, Cheetal Axis axis, Sambar Cervus unicolor niger, Barking deer Muntiacus muntjak vaginalis, Wild boar Sus scrofa cristatus, Rhesus monkey Macaca mulatta, Hispid hare Caprolagus hispidus.
18 species of amphibians including the recently-discovered Assam Painted Fog and Chilapata Forg(Minervarya chilapata sp.)have been recorded from Chilapata.
More than Twenty species of snakes are found in Chilapata. Chilapata is well-known for its butterfly species diversity. A large part of Chilapata forests, particularly Bania, Mendabar and Barodabri, contains ideal habitat for rhinos, elephants and gaurs.
Tourism experiences and attraction: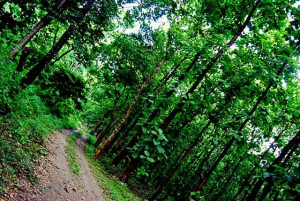 The Chilapata tourism circuit includes guided safaris to the Mendabari watch tower and KodalBasti forests. Day visits to Buxa Tiger Reserve, Jaldapara WLS and Khayerbari Leopard Rescue Centre are also possible.Numerous forest trails and walks are also a major attraction here. One can also enjoy a tea tour in the nearby Mathura tea estate and can as well have an excellent and authentic cultural experience by visiting the Rabha tribal community in their villages. Coachbehar heritage town is an hour-long drive, and an important part of the Chilapata experience.
Hidden deep inside the Chilapata forests, there exist ruins of a fort, believed to be built during the Gupta era in the 5th century.The remnants are a handful of stone and brick blocks with distinctive carvings.The ruins also consist of a broken wall and a broken gate of the Nalrajar Garh (fort of the king Nala), where, it is believed, the soldiers of the Maharajahs of Coochbehar stayed and the river transport system used to be carried out following the course of river Bania to protect the kingdom from Bhutanese invasion.
Chilapata Jungle Camp: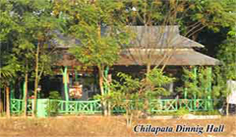 The Jungle Camp, with its rustic look and idyllic setting, is an abode for those who appreciate an authentic, intimate, educative and inspiring experience with the local nature and culture.While the Elephant Cottages on concrete stilts are made with brick, cement and wood in local style, the Bamboo Cottages are constructed with eco-friendly materials and have respectfully replicated the traditional architecture and design of the indigenous tribal houses.Food, served in a beautiful thatched dining with its four sides open to allow the guests to have an unobtrusive view of the surrounding nature, mainly consists of authentic local recipes, and prepared with fully organic ingredients sourced completely locally.
Responsible Tourism:
The lush garden of the Jungle Camp which consists of several species of local plants, fruiting trees, flower beds, creepers and bushes, is a happy thriving ground of the birds and butterflies. To support studies on local species, the Jungle Camp runs an amphibian centre and maintains a frog pool within its premises. To protect the fluttering beauties of Chilapata, the Jungle Camp has recently introduced a butterfly garden in its complex under the guidance and supervision of experts who have trained a group of local youths to maintain it and safeguard the butterflies.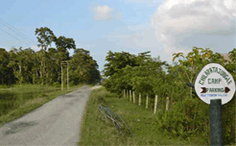 As a part of its environmental commitment, the Jungle Camp is slowly converting to renewable energy and has just installed a bio gas plant to meet the requirement of cooking fuel for its kitchen.
The Jungle Camp has trained and employed local villagers to look after the hospitality, services, house keeping and maintenance of the infrastructure. All ecotourism and cultural activities are managed and run by a group of local youths, known as eco guides, trained by the resource persons of Help Tourism.
The Rabha tribal community who inhabits the villages in Chilapata is well known for their bamboo crafts and weaving. To demonstrate the rich tradition and also to encourage the visitors to get a hands on experience and collect a local souvenir, the Jungle Camp has initiated a hand loom weaving centre in its premises. The centre and the small business is independently run by a local self-help group from the nearby Rabha village and the profit goes directly to the community.

On request of our guests, a group of local folk artists often display their colorful performances in the evening at the Jungle Camp premises and elevate the ethereal experience to an unreachable height with their traditional songs, dances and percussion.
Room Tariff :
European Plan: (EP)

Single
Double/Triple
Elephant Cottages:
1800
1800
Bamboo Cottages:
1500
1500
AC Elephant Cottages:
2500
2500

Meal Rates Per Head

Breakfast
Lunch
Dinner
100
200
200
*10% Service Charge & GST will be extra on Above Rates.
Interest :
Birding, nature walks, village walks, Jungle Trail country boating and car ride
Nearest Airport :
Bagdogra (4.5 hours)
Nearest Rail Head :
Hashimara (1 hour), Alipurdual (2 hours) & New Jalpaiguri Station, which is connected by long-distance trains with all metro and major cities of India (4 hours)
Address :
Village: Uttar Chakuakheti
Dist: Jalpaiguri