1800-123-0156
Type Here ... [+]
Voluntourism is one of the tool of tourism, which is mainly an initiative when both the tourism institution and tourists agrees to support the community, destination or a village with different social ... [+]
Lingsey a remote village of Kalimpong Sub-Divison is situated at an altitude of 4800 ft. and is 24 km from Pedong & 52 km from Kalimpong Coordinates: 27°9\'46"N 88°40\'29"E. It is ... [+]
Village Stays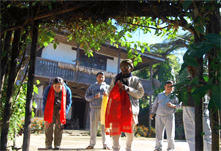 Help Tourism with its more than 02 decades of operating as a Destination Management Company (DMC), has been instrumental in initiating, motivating and support creating of several villages in East and Northeast India into 'tourism destinations'. These villages have their own uniqueness in their own natural and cultural way. From communities, to families to individuals, several rural tourism model developments have happened through a hand holding process by Help Tourism. After a few years of hand holding in identifying and creating tourism product, training of local people and giving them a market linkage for years, the hand holding process is completed, but connecting tourists to these village destinations still continues. Till date the innovative product team of Help Tourism still provides the best experience of these destinations through their tour leaders. The village stays include very simple facilities as homestays, homestay lodges, lodges, village resorts, community units, inspection bungalows, temporary facilities etc all providing authentic rural experience. These village destinations created by Help Tourism provides several volunteering opportunities.
---

Home Stay
Home Stay Buxa Sunakhare Home Stay Owner Name : Basan Adhikari Address : Buxa Road. P.O : Buxa Dist : Jalpaiguri Manja...
More >>

Dihing River camp Dibrugarh
Dihing River Camp Upper Assam & Dihing River Camp : Located on the bank of beautiful Dihing river that originates from a glacier in Namdapha Tiger Reserve and finally rolls down to Brahmaputra is a nice and quaint river-side lodge with interesting...
More >>

Teen Taley Eco Garden
Teen Taley Eco Garden Rumtek & Teen Taley Eco Garden Resort : Rumtek also called the Dharmachakra Centre, is a Tibetan Buddhist monastery located in the Indian state of Sikkim near the capital Gangtok. Originally built by the 9th Karmapa Wangchuk...
More >>

Lingsey Kalimpong
Lingsey Kalimpong Lingsey Kalimpong : Lingsey a remote village of Kalimpong Sub-Divison is situated at an altitude of 4800 ft. and is 24 km from Pedong & 52 km from Kalimpong Coordinates: 27°9\'46"N 88°40\'29"E. It is assessable...
More >>

Bahundangi Nepal
Bahundangi Nepal Treasure at the Border' Bahundangi, Jhapa-Nepal: It is located at the easternmost part of Jhapa district in India Nepal border. It is bordered with India towards east and south and Illam district and Mechi municipality towards...
More >>

Tinchuley
Only about 30 kms away from the crowded Hill station town of Darjeeling is the quiet hamlet of 11 houses, surrounded by high pine forests and tea gardens with the backdrop of the mighty snow-capped Mt.Khangchendzonga range. Clubbed with this is the extraordinary...
More >>