1800-123-0156
Type Here ... [+]
Voluntourism is one of the tool of tourism, which is mainly an initiative when both the tourism institution and tourists agrees to support the community, destination or a village with different social ... [+]
Lingsey a remote village of Kalimpong Sub-Divison is situated at an altitude of 4800 ft. and is 24 km from Pedong & 52 km from Kalimpong Coordinates: 27°9\'46"N 88°40\'29"E. It is ... [+]
Barsey Jungle Camp
Hee-Goan Village & Barsey Jungle Camp :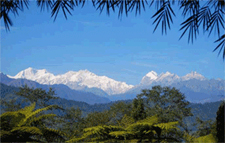 Bounded by Kalez Khola in the North, Hee Khola in the West, Rangit Khola in the East and Samdong reserve Forest in the South, Hee bermoik village in West Sikkim has a beautiful setting. Apart from many scenic spots, the area has a good deal of flora and fauna. More than 65 species of birds have been located in the surroundings.
Though dominated by the Limboo community, large number of Chettris, Bahuans, Sherpas, Tamang, Bhutias, Lepchas, Rais and Gurungs of Nepali community live here. They have their own distinct religious and cultural heritage.
Camp & Infrastructure :
Welcome to the land of the Limboos. This is a joint initiative of Sikkim Tourism, Help Tourism, Association for Conservation and Tourism (ACT), Hee Patal village and Tamling Nursery.The project offers the unique opportunity to enjoy and appreciate the cultural heritages of the Limboo community and the fascinating landscape of the area. One can even take a soft trek to Barsey from Hee Patal to explore the Red Panda trail in Barsey Rhododendrone Sanctuary. Camping is possible between Hee Patal and Barsey.
At present, the Barsey Jungle Camp has 4 well-equipped rooms. Those who are keen to understand Limboo culture and experience home hospitality can stay with a Limboo family.
Room Tariff
European Plan (EP)

Room Type
Single
Double
Double Bed:
1500
1500

Meal Rates Per Head

Bed Tea & Breakfast
Lunch
Dinner
200
300
300
*10% Service Charge & GST will be extra on Above Rates.
Interest :
Limboo culture and hospitality, local cuisine, village experience, old Limboo cemetery, pristine forest, trek to Barsey, camping, magnificent view of Mount Kanchenjunga, Chayatal lake, Waterfalls.
Nearest Airport :
Bagdogra (5.5 hours)
Nearest Rail Head :
New Jalpaiguri Station, which is connected by long-distance trains with all metro and major cities of India (5.5 hours)
Address :
Hee Patal Red Panda Gate
Vill. Hee Gaon
P.O. Hee Bazar
West Sikkim