1800-123-0156
Type Here ... [+]
Voluntourism is one of the tool of tourism, which is mainly an initiative when both the tourism institution and tourists agrees to support the community, destination or a village with different social ... [+]
Lingsey a remote village of Kalimpong Sub-Divison is situated at an altitude of 4800 ft. and is 24 km from Pedong & 52 km from Kalimpong Coordinates: 27°9\'46"N 88°40\'29"E. It is ... [+]
Jungle Camps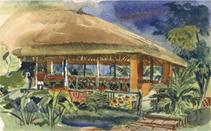 Almost all Protected Areas in India are surrounded by communities who have been there for generations and have traditions dependent on the natural resources.With the fast degradation of the natural resources in India, mainly because of commercialization, we are leftwith little which can hardly support any kind of traditional livelihood.
Hence, Help Tourism has tried to initiate an alternative livelihood among such communities who are interested in conservation and ownership of the natural resources around them through the creation of the Jungle Camps. Today, Jungle Camp is a brand of its own and spread all over east & northeast India.
---

Chilapata Jungle Camps
Chilapata Jungle Camps Chilapata Wildlife Sanctuary Chilapata Jungle Camp: The Dooars are an extraordinary choice for the nature lovers and general visitors.Nestled in the heart of the picturesque Eastern Dooars at the foothills of the Eastern...
More >>

Dibang Valley Jungle Camp
Dibang Valley jungle Camp Dibang Valley, Arunachal Dibang Valley Jungle Camp : Set idylically in the midst of lust Orange orchards and private forests, the Jungle Camp is an with comfortable and spacious cottages built on stilts and are made...
More >>

Neora Valley jungle Camp
Neora Valley Jungle Camps Neora Valley National Park : It is one of the last remaining pristine ecosystems of the Eastern Himalayas with its amazing Bio-diversity, and is home to many rare and endangered plants, animals and birds. It exhibits...
More >>

Jaldapra Jungle Camp
Jaldapara Jungle Camp Jaldapara Wildlife Sanctuary & Jaldapara Jungle Camp : Jaldapara Wildlife Sanctuary is a protected park situated at the foothills of Eastern Himalayas in Alipurduar Sub-Division of Jalpaiguri District in West Bengal and on...
More >>

Pakke Jungle Camp
Pakke Jungle Camps Pakke Tiger Reserve & Pakke Jungle Camp : Pakke Tiger Reserve, Arunachal Pradesh Situated in East Kameng district of the Western part of Arunachal Pradesh with it's headquarter in Seijusa, Pakke is a pristine and most...
More >>

Sundarban Jungle Camp
Sundarbans Jungle Camps Sundarbans Tiger Reserve & Sundarban Jungle Camp : The Sundarbans National Park is a National Park, Tiger Reserve, UNESCO World Heritage Site and a Biosphere Reserve located in the Sundarbans delta in Indian state...
More >>

Barsey jungle Camp
Barsey Jungle Camp Hee-Goan Village & Barsey Jungle Camp : Bounded by Kalez Khola in the North, Hee Khola in the West, Rangit Khola in the East and Samdong reserve Forest in the South, Hee bermoik village in West Sikkim has a beautiful setting....
More >>