1800-123-0156
Type Here ... [+]
Voluntourism is one of the tool of tourism, which is mainly an initiative when both the tourism institution and tourists agrees to support the community, destination or a village with different social ... [+]
Lingsey a remote village of Kalimpong Sub-Divison is situated at an altitude of 4800 ft. and is 24 km from Pedong & 52 km from Kalimpong Coordinates: 27°9\'46"N 88°40\'29"E. It is ... [+]
Selim Tea Bungalow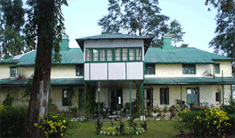 147 year old, Selim Hill Tea Bungalow, rustic but nostalgic, standing history in stone & wood is now open for tourists. Before Kurseong, on the Hillcart Road to Darjeeling, 35 kms. from Siliguri, the Selim Hill Tea Estate was established by the English planter Mr. Henry in the year 1800. Some are of the opinion that the name is after Selim Sahab, who was a planter here, others argue that the name is after the beautiful sailing hills that surrounds the estate.
Selim Hill offers breathtaking views of the Teesta river and Balason river valleys, meeting the forests and settlements of the foothills to the south from Selim top. To the north is Kurseong and glimpses of snow-capped mountains. This is a good sunrise and sunset point. Within walkable distance is the famous agony point of 20th Mile loop, locally called Smritiban. Also, within the estate boundary is Mother Teresa's "Santa Bhawan" an orphanage for baby children. The lower division shares its boundaries with the Lama Busty forest beat of Mahananda wild life sanctuary. The nearest railway station is Gayabari, above Tindharia. This is a DHR, world heritage site infrastructure.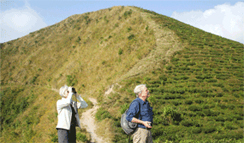 The estate is a biodynamic garden and is famous for the orthodox Darjeeling tea. There are two divisions, upper and lower, with four worker villages. It is a good study center for tea processing. Foot treks and pony treks within the estate is interesting.
The more adventures can choose from several low altitude treks. There are three double room with attach bath, the fourth one would be added shortly. A small group of ladies look after the house keeping & food. The menu is typically a planter's choice. The backyard organic garden is the vegetable store for the Bungalow kitchen. The youths of the garden lead your treks & tours in the estate.
Within the Bungalow campus is a table tennis games room, badminton outdoor court, library, breakfast viewpoint gazebo, lawns & gardens & good views. All the four bedrooms are on the first floor & common facilities are in the ground floor.