1800-123-0156
Type Here ... [+]
Voluntourism is one of the tool of tourism, which is mainly an initiative when both the tourism institution and tourists agrees to support the community, destination or a village with different social ... [+]
Lingsey a remote village of Kalimpong Sub-Divison is situated at an altitude of 4800 ft. and is 24 km from Pedong & 52 km from Kalimpong Coordinates: 27°9\'46"N 88°40\'29"E. It is ... [+]
Dihing River Camp
Upper Assam & Dihing River Camp :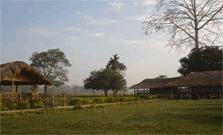 Located on the bank of beautiful Dihing river that originates from a glacier in Namdapha Tiger Reserve and finally rolls down to Brahmaputra is a nice and quaint river-side lodge with interesting thatched Bamboo huts in a lush Assamese countryside.Apart from watching birds in nearby Jokai Reserve Forest, you can soak into the traditional rural life in Assamese village, taste local food, visit Silk farms, take part in their cultural activities and enjoy fish cocktail with fishes which can be hand-picked by you from the river nets. In the evening you will be entertained by the local village cultural troupe.
Camp & Infrastructure :
Dihing River Camp have two numbers of Chang Ghar (houses on stilts) with a common toilet and bath complex. There is a facility for putting up tents again sharing the same toilet and bath complex. The traditional kitchen serves at the open dining hall made in the village style. Local barber on call is a special facility.
Room Rariff :
American Plan: (AP)

Room Type
Single
Double
Cottage Room:
2500
2500
*10% Service Charge on Above Rates.
Interest :
Birding, nature walks, village walks, Jungle Trail, tribal cultural programme & country boating in Dihing River
Nearest Airport :
Dibrugarh (1.5 hours)
Nearest Rail Head :
Dibrugarh (30 Minutes)
Address :
Beside Dihing Bridge
National Highway
P.O. Dibrugarh
Upper Assam