1800-123-0156
Type Here ... [+]
Voluntourism is one of the tool of tourism, which is mainly an initiative when both the tourism institution and tourists agrees to support the community, destination or a village with different social ... [+]
Lingsey a remote village of Kalimpong Sub-Divison is situated at an altitude of 4800 ft. and is 24 km from Pedong & 52 km from Kalimpong Coordinates: 27°9\'46"N 88°40\'29"E. It is ... [+]
Heritage Connection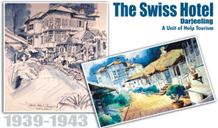 While connecting the several village stays and jungle camps, the transit is through many urban destinations, mainly because of the connectivity advantage. Help Tourism Innovative Product (HTIP) team has created a heritage circuit in all these Urban Transits, which helps to explore the 'Old World Charm' along with the regular sightseeing points. Excellent 'Guided Tours' are available with Help Tourism in these urban destinations with motivated and well meaning residents. From simple urban transit centres, these destinations have been created into extraordinary experiences and opportunities for working with several groups in social and cultural development of these destinations.
---

Sunrise & Sunset Time, Chart
Sunrise & Sunset Time, Chart Help Tourism (P) Ltd Date Sunrise Time AM Sunset Time PM ...
More >>

Walking Tours in Kolkata
Heritage walk is an heritage awareness tour of the distinct architectural heritage of Calcutta. It highlights the evolution of this city from where it all began, Dalhousie Square. There are two distinct walks. First, The Heritage Walk of...
More >>